Experience the Difference
Gives your old chair new life!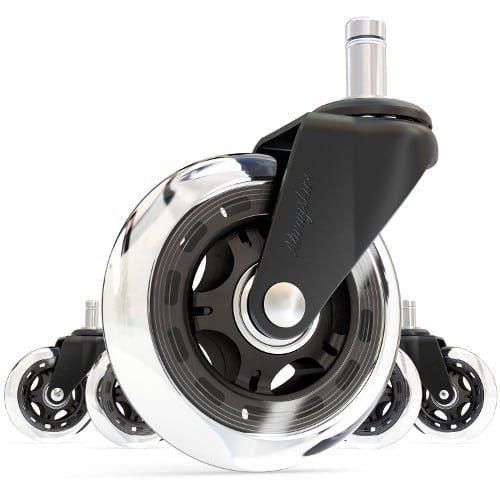 AlwaysLux Wheels
The ultimate chair upgrade!
Does your current chair wheels scratch or damage your floor? Do you have trouble rolling your chair over carpet?
If you're looking for whisper quiet operation so you can concentrate on what's important, these are the wheels for you!
Experience the best feeling replacement chair wheels available on the market and bring new life to an old chair today!
AlwaysLux Wheels
For carpets
You paid a lot for your carpets & rugs, why ruin them with clunky office chair wheels?
Rollerblade style chair wheels make it effortless to roll over carpet and any other surface material with ease.
Alwayslux Wheels
For Hardwood Floors
Not only will you be the king of speed with our rollerblade style wheels but you will also be kind to your hardwood floors.
Regardless if your floor is tile, laminate or hardwood, you can be certain that Alwayslux wheels will be kind to your surfaces.
Made of special plastic, you will never see a scratch and the other benefit is wiser quiet operation.
reasons to choose Alwayslux wheels
awesome features
All terrain
Stop damaging your expensive hard wood floors. Many chair wheels use cheap, low quality materials that destroy your flooring. We don't. Encased with soft, polyurethane material our rollerblade style wheels are guaranteed not to scratch or leave marks on any surface. So feel free to finally toss that old computer chair floor mat!

Heavy Duty Construction
Entire support bracket and internal parts are made of high-grade, heat-treated steel, providing years effortless rolling and durability. The heavy duty design supports up to 250lbs.

SMOOTH & QUIET operation
Remain focused and relaxed with the help of these caster wheels. Precision ball bearings in the caster swivel and axel provide smooth, easy rolling while causing no squeaky sounds or noise of any kind.

Old chair new life
Most people replace office desk chairs with new ones because the wheels develop gunk over years of use. Our chair wheels do not build up gunk over time and you can save yourself a bundle by just replacing the wheels.
Easy to install
Makes office chairs fun
Let's admit it, most offices and office chairs are dull. The most important thing is comfort when we're using our office chairs but no one thinks about making it "fun."
With our AlwaysLux wheels, you will be zoom your way to the printer and back in ultra speed and because they are super quiet, no one will notice you left your desk. Winning!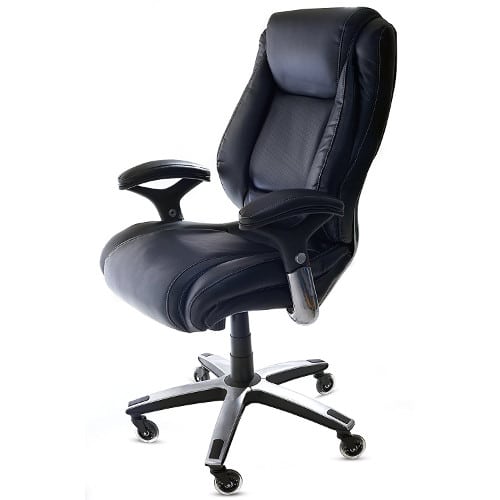 experience the difference
The comparison
Once you experience the difference between rollerblade style wheels and that of traditional office chair wheels, you will never go back.
With this sleek upgrade and a lifetime guarantee in case they ever fall apart, it is no wonder we've sold over 10,000 units so far!
The Ultimate Upgrade
tech specs
The Details
| | |
| --- | --- |
| Brand | Alwayslux |
| Item Weight | 2.6 pounds |
| Package Size | 10 x 10 x 2 inches |
| Model Number | AL01 |
| Color | Black |
| Material Tyoe | Steel Support Bracket |
The Facts
| | |
| --- | --- |
| Size | Universal Stem: 7/16″ (11mm) x 7/8(22mm) |
| QTY Wheels | 5x Soft Polyurethane Material Wheels |
| Surfaces | Tile, Carpet, Wood |
| Smoothness | Dual Ball Bearings |
| Chair Type | Office Chair |
| Chair Height | Raises by 2 inches |
lifetime warranty!